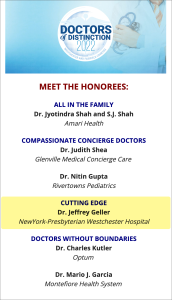 Medical professionals with diverse backgrounds and specialties from throughout Westchester and Fairfield County were recognized for their achievements on Sept. 22 at Westfair Communications' 2022 Doctors of Distinction event.
Presented by the publisher of the Westchester and Fairfield County Business Journals, the ninth annual event was held at The Stamford Hotel in downtown Stamford. Anne Jordan Duffy, Westfair Communications' associate publisher, served as master of ceremonies, introducing each honoree and enumerating their contributions to the health and safety of their communities.
Serving as judges for the event were Gary Sastow, a partner at the Danzinger & Markhoff LLP law firm who has focused primarily on representing healthcare professionals in his more than three decades of practice, and Janine Miller, who has served as the executive director of the Westchester County Medical Society and the Westchester Academy of Medicine since March 2015.
Dr. Andrew Kleinman, a plastic surgeon with more than 30 years in practice in Westchester and a past president of the Medical Society of the State of New York, the Westchester County Medical Society, and the New York State Society of Plastic Surgeons, took to the stage to put the accomplishments of the honorees in perspective.
"You are truly leaders," said Kleinman, who was a 2015 Doctors of Distinction Honoree. "I have to say that although the quote 'business of medicine' has changed the calling of physicians has not. The number of people applying to medical school is up, the way we practice might be different, but we are still the best representatives for our patients. We are the ones who really stand up for our patients."
Kleinman also recounted his efforts to have comprehensive breast reconstruction added to Employee Retirement Income Security Act and Union medical plans in the 1990s. For many cancer patients the value of having their body resemble what it was before surgery was immeasurably valuable but unaffordable. He recalled shaking the hand of a senator when his efforts came to fruition and saying, "You're going to be helping more patients than I am going to touch in my entire career."
"He said something very nice about no, I'm the one who takes care of the patients. But a light bulb went off and I realized that through advocacy we can also do as much for our patients as when we take them one at a time," Kleinman concluded while urging the night's honorees to become involved in medical societies so they can help craft legislation that will protect patients beyond their own.
The recipients of this year's awards were the following:
Dr. Jyotindra Shah and his son S.J. Shah received the All in the Family Award for founding Amari Health in Scarsdale, New York. They take a functional and integrative medicine approach which emphasizes finding the root causes of health problems instead of rapid treatment of symptoms.
Dr. Judith Shea and Dr. Nitin Gupta were honored with the Compassionate Concierge Doctor award for their work in establishing service-oriented practices. Dr. Gupta thanked the Business Journals for recognizing small independent private practices as well as his family for their support towards his work.
The Cutting Edge Award went to Dr. Jeffery Geller for his work in advancing robotic surgery to treat arthritic disorders of the hip and knee.
"As physicians we really need to push the envelope, be innovators and take chances sometimes," Dr. Geller said when accepting the award, adding thanks to New York Presbyterian for giving him the opportunity and support he needed to succeed.
For their internationally minded efforts, Dr. Charles Kutler and Dr. Mario J. Garcia were both recognized with the Doctors Without Boundaries Award. Dr. Kutler is an experienced infectious disease specialist who has performed multiple medical missions to Nicaragua, Honduras and Tibet, and Dr. Garcia is known both for his work as a leader in advancing cardiac diagnostic technology, and his decades medical missions to the Dominican Republic.
"I have to say that going to the Dominican Republic is not much of a hardship for me," Garcia said as he accepted his award.